I was recently asked to review a new Wii game by Jumpstart. They also gave me the opportunity to give away a copy to one of my lucky readers. I just received my copy in the mail yesterday and did a little sneak peak of it. It's got fun sports games like football, volleyball, baseball, basketball, bicycle riding, and much much more.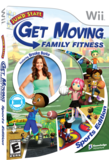 So if you would like the fun family fitness Wii game of your own then all you have to do is leave me a comment saying what your favorite activity to do as a family is. For a 2nd entry if you have a blog and you blog about my giveaway and link back here you'll get an entry. Just be sure to come back and leave another comment for your second entry. And to receive a 3rd entry into this giveaway if you tweet about it and leave a link to your tweet you'll get another entry.
Only one winner. You must enter by June 25, 2010 11:59 p.m. Eastern Standard time. I will announce the winner on June 26th. Pass this on to all of your Wii fans to give others a chance to win too.